Contact Us
Azienda Agrituristica Piccolo "Fattoria di Grenne"
Ctd. Grenne
98062 Ficarra (ME)
In the emergency period from CORONAVIRUS we will comply with national, regional and municipal provisions and therefore the company premises will be usable with the limitations imposed by the Authorities. Please read the ordinances on the Sicily Region website http://pti.regione.sicilia.it/portal/page/portal/PIR_PORTALE/PIR_Covid19OrdinanzePresidenzadellaRegione
The company offers hospitality and catering
Hospitality: the azianda is open all year;
Catering: every day for overnight guests;
for external guests: in winter only Saturday for dinner and Sunday for lunch, every day during the summer.

+39.0941.582098 or +39.0941.582757
+39.3923569988


+39.0941.583135
E-mail:
Info: info@grenne.com


Where We Are - In Sicily, 97 km far from Messina, nearby the sea, the "Farm of Grenne" is a charming oasis and a great destination for those who want to immerse themselves in a natural environment, intact and healthy. The agritourism is easily accessible, enjoys a unique position, as well as, a beautiful landscape. It looks, in fact, the splendid scenery of the Aeolian Islands and therefore, the most striking part of the Tyrrhenian coast. The farm "Fattoria di Grenne" is located in the homonymous contrada in the district of Ficarra.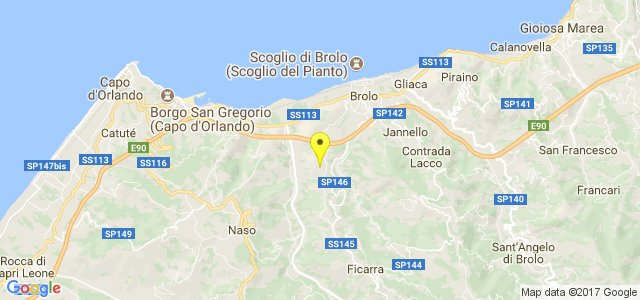 How to reach us:
By car: Highway A20 Messina-Palermo exit Capo d'Orlando East - Brolo. Crossroad left to Ficarra.
As an alternative to the highway, coming from Catania, you can take the more scenic route that passes through Bronte, Randazzo, S. Domenica Vittoria, Floresta, Ucria and Sinagra (S.S. 116).
By Train: Railway Station Brolo-Ficarra/Capo d'Orlando Bus Magistro from the Square FS.
By plane: Catania Airport, Palermo Airport and Reggio Calabria Airport.
Parkos

 to reach us from Catania airport

https://parkos.it/parcheggio-aeroporto-catania/





Fotogallery